Shipping FAQs
When will I get my parts?
If your whole order is in stock and the order was placed by 3:00 PM Eastern your order will go out the same day or the next at the latest. If your order contains items that are out of stock you will have the option during checkout to select if you want to wait until everything's in stock to ship (cheapest, slower) or to ship what's in stock now and ship the rest when it's back in stock (more expensive, faster).
What carriers do you use?
We ship UPS, FedEx, and USPS. We mostly ship out via UPS but you have the option to select exactly how you want your package shipped during checkout.
Can I pick up my order at your warehouse?
You sure can! We currently only display that option if your zip code is local. Our hours are Monday through Friday 8:00 AM to 5:00PM Eastern.
Do you ship internationally?
Yes we do! We are based in Ohio, USA and will ship wherever we are legally allowed to. International orders require some extra work on our end getting the shipping charges correct so we will contact you prior to shipping to verify your order total.
What about Customs and Duties?
You are responsible for all customs and duties imposed by your government. We don't have a good way of estimating those as every country is different.
Why do you charge shipping separately?
Because free shipping isn't free! If you're not being charged shipping, it means that the average cost is built into the product price. When you buy more than one part, you end up paying more in shipping than necessary. So, we do our best to estimate what the shipping cost for your ENTIRE order will be and that's what you pay. Check out the graphic below for an example of how that works.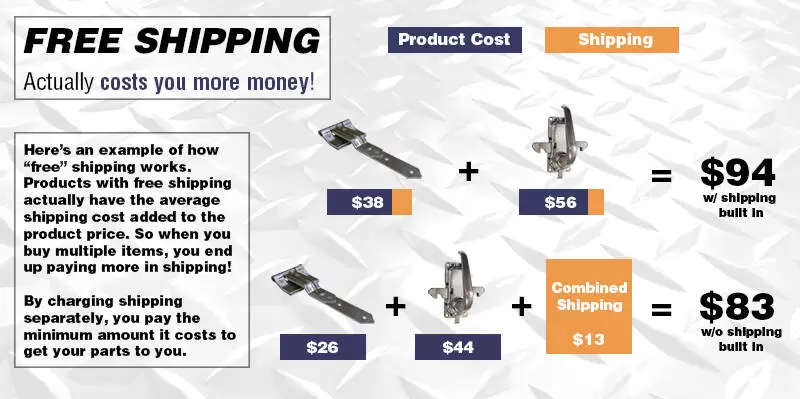 Why are some items so expensive to ship?
Carriers charge by dimensional weight. That's a fancy way of saying they take the dimensions and weight into consideration when calculating a shipping cost. A lot of our parts are very large, very heavy, or sometimes both and the carriers charge more to get them to your door.
When will I be charged?
You won't be charged until your order ships. If you backordered any parts and selected to ship them separately, you will be charged only for the in-stock items when they ship. Once we receive the backordered items, you will be charged for them when they ship.
What if my order is damaged?
Contact us immediately! Damages or shortages must be reported within 7 days of receipt. Examine and count all packages carefully. (BE SURE TO KEEP ALL PACKING MATERIAL.) Please note that multiple package shipments may not arrive on the same day.
For more information, please see our Return Policy